All members of the DPAS community are encouraged to actively participate in training. 
We offer role based training through our online Learning Management System (LMS), DPAS eLearning. New users and any person receiving a new role in Web DPAS must take the associated training to receive access and functionality for that role.
Our staff also offers instructor led training.  We regularly present scheduled training sessions and we can provide training to your agency on request.
We also host online webinars regularly. These hour long sessions are not required, however they contain important training announcements, showcase new DPAS releases, cover hot topics, and illustrate common DPAS functions.
---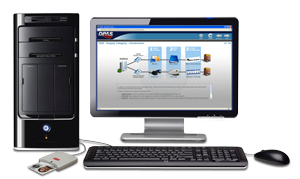 To meet DPAS requirements and policy, we offer role based training on our online Learning Management System (LMS), DPAS eLearning.  This service is available 24/7 and is easily accessible.
New users can self-register on the site and select training to meet their needs. A resource library is also available. It contains reference documents, quick reference guides and other supporting material.
To access DPAS eLearning, please visit http://dpaselearning.golearnportal.org Download and  read the DPAS eLearning User Guide for registration, login, course navigation, test and certification instructions.
Leidos Hosted Classroom Training

Our instructors schedule regular classroom training sessions at our Camp Hill, PA Training Facility.
There is no direct cost involved for attending Leidos hosted training, beyond your personal travel expenses.
Classroom training sessions are regularly scheduled for the following standardized courses:
See the training schedule to book upcoming instructor led training events.

Open the Leidos and Surrounding Hotels map for the training location street address and driving directions.
If you are a foreign national and you are planning a visit to our training facility, please complete the Foreign National Visitor Form and submit it to us no less than 37 calendar days prior to the visit.
Customer Site Classroom Training - By Request
Onsite training may be requested for your site. However, as opposed to training hosted at our Training Facility, DLA does require funding via Military Interdepartmental Purchase Request (MIPR) to cover travel and per diem costs for the instructor(s). We recommend class sizes between 10 - 20 students. You must also provide a classroom facility that meets the following requirements:
CAC enabled computer for each student and instructor
Internet connection for each computer
A multimedia projection unit and projection screen
Whiteboard or flip charts
For Automated Inventory training, a barcode scanner, barcode label printer and labels (see Software & Hardware for the proper equipment listing and setup instructions)
Provide your contact information and a general statement about your request on our Contact Us form and our training specialists will work with you to schedule customized training for your site.
Our training support team uses Adobe Connect to provide our users with interactive training in an online webinar format.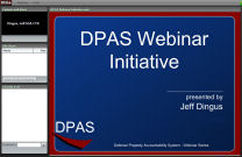 This free network allows DPAS users to come together for interactive learning sessions. We develop these sessions to address current issues from the user community. We regularly evaluate metrics from the call center and other sources of user input to develop topics for upcoming sessions.
Common topics in our hour long sessions include:
Status Updates - cover new DPAS releases, training changes and other important announcements
Hot Topics - of special interest to DPAS users including RFID, Security, GFP, IUID, and WAWF among others
DPAS Functions - walk through of a general process in the system, includes common issues and frequently asked questions
To take advantage of this interactive training, simply check the DPAS Training Schedule for webinar dates and times. Check the schedule often and book upcoming webinars that interest you.

We maintain a list of all the DPAS recorded sessions and their links on the Webinar Archive page. If you are not able to participate in the original session, you can view the recording at your convenience.We also provide a post-webinar report which includes session details and all the Q&A.  We also research some of the questions asked during the webinar and provide the extended answers in the post-webinar report.