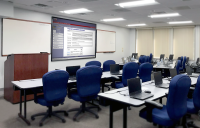 While COVID-19 gathering restrictions persist, we remain unable to offer Leidos-hosted in-person classroom training.
To continue providing valuable DPAS learning we have been, and are pleased to continue, offering virtual classroom training.  If interested, please check our virtual training offerings, or send your inquiry to This email address is being protected from spambots. You need JavaScript enabled to view it.. 
Please note:
A 5-person minimum is required
Each participant must have access to a workstation with internet access
Participants must be able to attend all training days to role certify

5-day Warehouse Management
4-Day Property Accountability
3-Day Maintenance & Utilization
3-Day Materiel Management
3-Day Force Structure Management
2-Day Registry
Should the 5-person minimum be unrealistic, DPAS eLearning, is accessible to all as a means of independent learning. 
Webinars are also offered as a means of continued education and/or introduction to new functionality.  Webinars are offered on the fourth Tuesday of each month with a few exceptions.  All webinars are archived here on the DPAS Support site for continued viewing.
Please continue to check back often.  We will resume Leidos-hosted in-person training events as soon as we are able.