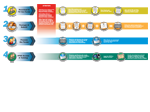 To better understand the complete process of getting a DPAS account established, please review the  DPAS Access Process Flow Diagram. This will show you the process from start to finish and may expedite the account creation process. This diagram represents the basic process, some additional forms may need turned in if you are adding a new Logistics Program, Region, Site or Warehouser.
Please allow up to three business days from the receipt of acceptable forms for the user account to be created by the DPAS Account Management team.
1. Download the Forms

NOTE: All user access forms must be digitally signed by all parties and are required to be the original PDF documents found on the DPAS Support website. No other versions of the DPAS access request forms will be accepted. This excludes access for Navy users. The Navy has their own 2875 and is located on the Navy's website. Navy users should contact the Navy PP&E Office for additional information. No scanned or fax copies will be accepted.
Download the following forms. These forms are referred to as the DPAS Application Package:
To see the menu options associated to the Roles, view the DPAS Roles Spreadsheet. 
REQUIRED: If you do not have a Logistics Program, Region, Site or Warehouse setup in DPAS, you will need to complete the following creation spreadsheets. Once completed please send the spreadsheets to the DPAS appointed Information Owner. If you don't know your Information Owner is, please contact the DPAS Help Desk at 1-844-843-3727 (1-844-THE-DPAS). Completed spreadsheets must be sent via a digitally signed email from the Information Owner to the DPAS Support Help Desk for processing.
To create a Logistics Program, please use the Logistics Program Creation Spreadsheet - XLS (70KB)
To create a Region, Site or Warehouser please use the Region_Site_Warehouser Creation Spreadsheet - XLS (30KB)
For Data Conversion Spreadsheets please download the Warehouse Management Data Conversion Spreadsheet Package - ZIP (576KB)
ATTENTION: All new users are required to provide a training artifact showing completion of the Information Assurance Awareness or Cyber Awareness Challenge training.
To be a valid training artifact it must include:
The user's name
Information Assurance Awareness or Cyber Awareness Challenge as the course title
The DoD seal or include DoD in the course title
A completion date within the past 12 months
A copy of the users training record is an acceptable artifact if all the information from above is included. New users must submit the training artifact with their DPAS user access forms to their Information Owner. 
---
2. Understand the Forms

Review all of the instructions from the following articles in this section.
---
3. Submit the Forms

Once the forms are ready, review the following instructions: