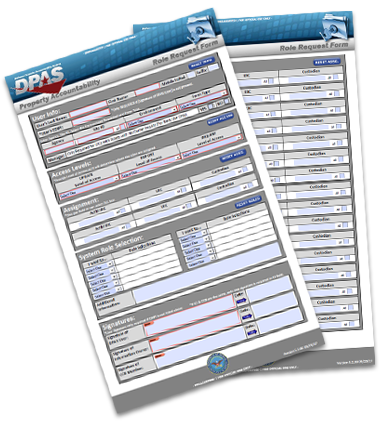 This form can be broken into five sections:
User Info - Please complete User's Last Name, First Name, Middle Initial and EDIPI (Note: EDIPI only required if signature of DPAS User is not present at the bottom of the page. Next type in your Logistics Program and select which environment is being requested as well as form type (New User or Update User)
Main Access Level - Determines Tier level where user's Update, Report and Inquiry roles will be applied for use.
Select the Tier from the drop-down menu provided.
Next add the corresponding Assignment Tier information as it appears in DPAS. (Example: if you choose Warehouse Tier level then complete which Region, Site and Warehouse. If you choose Logistics Program level , once you select that level and click outside of the box you will see the "All" boxes checked for Region, Site and Warehouse. Make sure your Logistics Program is listed above.
Next make the Role Selection under "I want to" - you will select either "Add this role" or "Delete this role" and then choose the role from the role selections drop-down.
Security Commodity Types default to "All" unless unchecked and specified otherwise.
Second Access Level - only complete when additional access is needed for the user. Follow the same steps above on filling in the information needed for the additional access.
Additional Info - Provide any additional information that may assist the Account Management team in processing the request.
Signatures - The User Signature only required if EDIPI is not present at top of form. IO signature is required.
We recommend that you open this form electronically using Adobe Acrobat. You can easily complete the form and avoid common errors with the built in rules programmed in the electronic form. Adobe Acrobat Reader is available for free from the Adobe website.
Note: Each section has a reset button to the right.
The form can be downloaded with instructions:
Section 2 - Main Access Levels
There are four levels of access in DPAS. Understanding these levels will ensure the proper access is granted.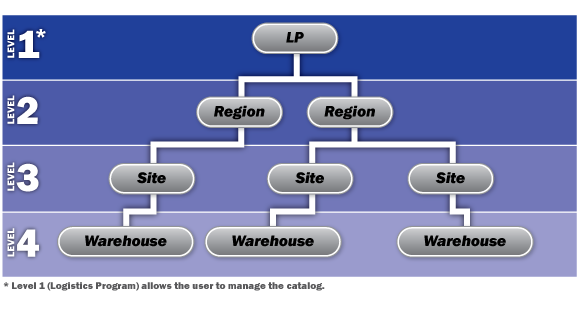 Logistics Program - top level of access. Users at this level have access to manage the Catalog, all levels under the Logistics Program will share this common Catalog.
Region - users at this level can manage all assets for their Site(s).
Site - users at this level can manage all assets for their Warehouse(s).
Warehouse - lower level with access privileges restricted to assets within specific commodity types.
Once you have an understanding of the access tier levels, you can assign role(s) to the level needed.
Select the Access level for "Update, Report & Inquiry" from the drop-down menu provided.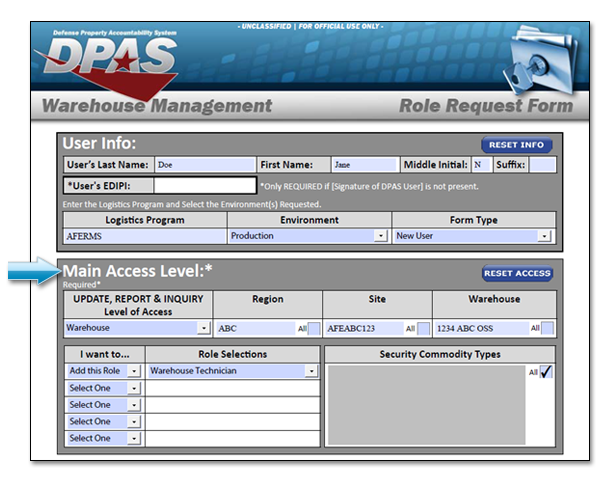 ---
Section 2.2 - Assignment
Based on the Access Level selected, the corresponding Assignment information should be completed. (Example: If selecting Region level access then provide which Region, if selecting Site level access then provide which Region and which Site. If Logistics Program level access is selected, when you click outside the box you will see the "All" box checked for Region, Site and Warehouse).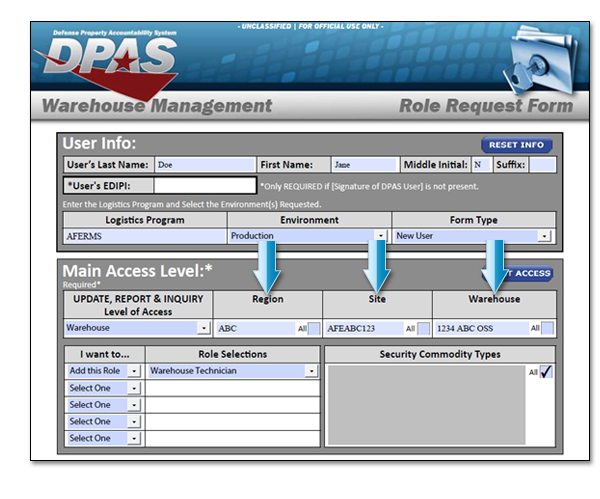 Related Links:
---
Section 2.3 - Role Selection
Each process in DPAS is assigned to a specific role. Every user is assigned one or more roles in the system.

Partner with your Information Owner (IO) to determine which roles are required. All roles are listed in the drop down menu once you select whether you want to add or delete. If you are not sure who your IO is, please contact the DPAS Support Help Desk for guidance.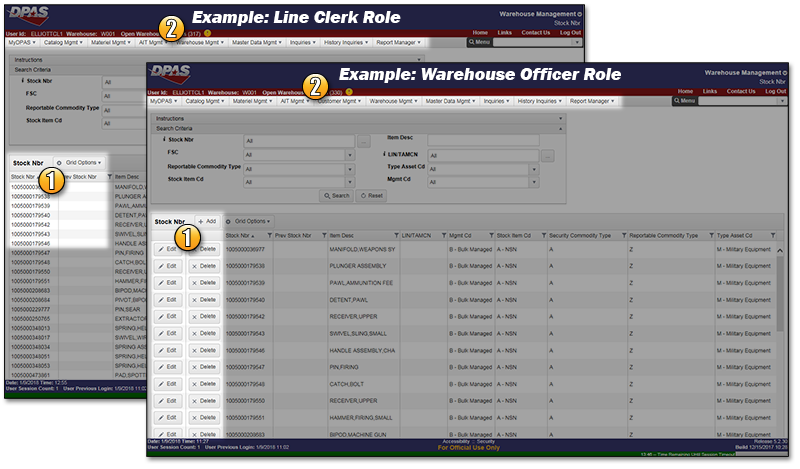 In the above example, note the functional differences between the Warehouse Officer and Line Clerk roles:
Action Buttons - The Warehouse Officer has access to Add/Edit/Delete, where the Line Clerk role is "Read Only" in this process.
Menu - the Warehouse Officer has more menu options (processes) available over the Line Clerk role.
After reviewing the security access levels and roles, you must complete the necessary information on the DPAS Roles Request form. Contact your supervisor or the Information Owner (IO) for your agency if you have questions regarding your choices.